Great Ideas That Make Your Small Farmhouse Kitchen Modern and Beautiful
Is your kitchen small? Are you struggling with ways to decorate it to get that beautiful modern farmhouse look? Take heart – your small kitchen may not have tons of space but with these modern small farmhouse kitchen ideas, you'll be able to create a surprisingly spacious kitchen with a big dose of charm.
(Please note- article may contain affiliate links. Full disclosure at the end of post.)
CREDIT Decor Lovin
Table of Contents
Sharing is caring. I'd love for you to pin it.
Now you probably don't have the luxury of snapping your fingers and having everything done overnight like an HGTV show, I mean, who does? Just remember, good design may take some time. If you're not sure where to start or if you're on a tight budget, implement one or two things at a time like painting or putting up shelving – don't rush it, you'll get there, be patient with yourself.
Farmhouse design should have a laid-back feel. It's not about a rigid, forced feeling where everything has to be perfect and in place. Keep cozy, stylish, and comfortable thoughts in the back of your mind when putting your space together.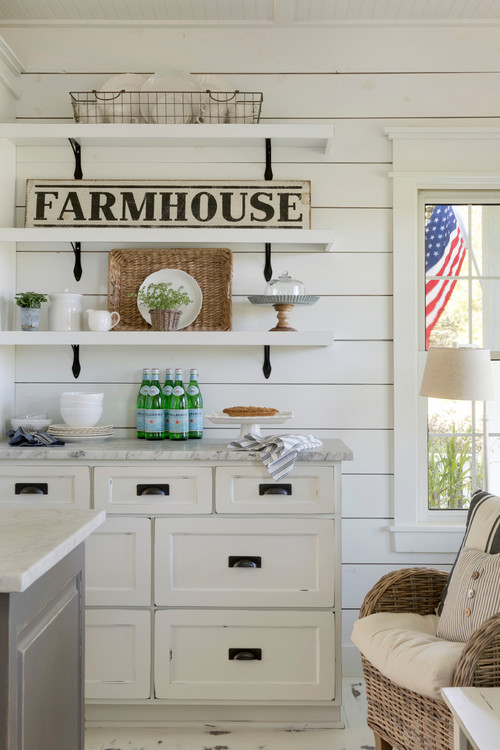 Paint
It all starts with paint. Painting your walls is the perfect place to begin your decorating journey. Why? Paint is economical, temporary and it makes a huge impact on a room.
White Walls
White walls are classic farmhouse 101. They're exactly what you'd expect to see when you walk into a farmhouse kitchen, but don't get hung up on the idea that it's white walls or nothing.
Soft colors like off-white, ivory, blue, gray, and green are popular too. My philosophy is to choose whatever color palette you're drawn to. Don't be afraid to get out of the box and make life exciting. That's the beauty of paint, if you screw up, you paint over it.
CREDIT @tatteredandtarnished
One note to keep in mind- the darker the paint color, the smaller your room will appear.
Popular farmhouse paint colors include:
White Paint – Alabaster White from Sherwin Williams
White Paint – Dove White from Benjamin Moore
Gray Paint – Repose Gray from Sherwin Williams
Blue Gray Paint – Magnetic Gray from Sherwin Williams
CREDIT Moose Lighting
Pendant lights are a really important part of your farmhouse kitchen design. In fact, light fixtures should be one of the first decorative items you add to your space. Well shoot, I already said you should paint first, ok so pendant lights should be the second thing on your list. Why?

they're economical and they make a big impact on a room
good lighting makes your kitchen appear larger than it is
pendants create the vibe of the room and don't take up extra space
Read my article 50 Best Modern Farmhouse Chandeliers and Lighting [2022] for more modern farmhouse lighting options.
CREDIT Park and Oak Interior Design
For many years, I restored antique lighting. At one point I bought a huge lot of authentic vintage chicken feeders and turned them into pendant lights.
The photo below is one of my client's kitchens where you can see my chicken feeder lights. Now obviously this is not a small kitchen – it's one of those showstopper dream kitchens. But I added this photo because I want you to understand. When choosing your pendant lights, no matter how large or small your kitchen is, lighting makes a big impact on your space.
Don't go with generic lighting. State your style through your lighting. You can see how the pendant lights set the tone for the room. They make the statement – "This is a farmhouse kitchen". That's what your light fixtures should do for your kitchen space- state the style.
Open Shelving
What is Open Shelving?
Open shelves are typically flat pieces of wood that attach to the wall by brackets. The shelves are vertically stacked on the kitchen wall replacing your kitchen cabinets. They hold plates, cups, and bowls and are a great way to display your favorite farmhouse decor.
Open shelving works well in a small kitchen because it opens up the area that cabinets would have otherwise taken up. This makes your kitchen appear larger.
CREDIT Kitchen Cabinet Kings
You can see how Kitchen Cabinet Kings brought color to their space using open shelving decorated with plants, bottles, and boxes.
In a perfect world, my farmhouse kitchen would be stacked with beautiful open shelving. In reality, my cabinets are crammed full of plates, mix and match bowls, glasses, and plastic cups – the kind from ball games and concerts that you really don't want, but you can't let go of. I don't think anyone in their right mind would enjoy seeing what's behind my kitchen cabinets. Can you identify?
Kitchen Island
Kitchen islands are exactly what you would expect. An island (a stand-alone piece) in the middle of your kitchen. What you may not expect though is how the size of the island will affect your space.
CREDIT This Old House
What Size Island Should I Use for My Kitchen?
A good rule of thumb is that you should allow at least 3′ of space between your center island and any other cabinets or surfaces you'll be working on. This will give you enough space to walk around if the refrigerator door or the dishwasher is open.
Don't be afraid to use a large island. It will give you a large workspace plus storage underneath. Just remember the 3′ suggestion.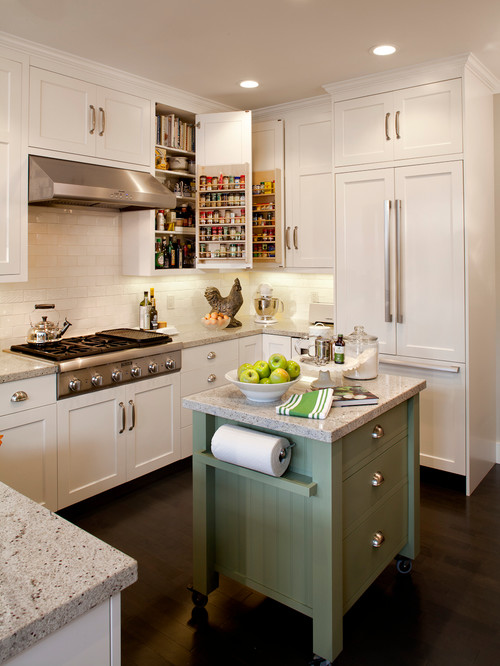 Islands on wheels and kitchen carts are perfect for small kitchens. You can use them when you need them and roll them out when your kitchen feels crowded.
How Should I Decorate My Kitchen Island When I'm Not Using It?
If you're not using your kitchen island, sometimes it can look a little blank. I suggest using a vase of flowers or a decorative tray to dress it up. Click this post if you need a little help with your tray decor: Best Tips on How to Decorate a Serving Tray.
Farmhouse Sink
A farmhouse sink, also known as an apron sink (there are a few differences but that's for another day) is one of the quintessential items in farmhouse design. Whether you're going for a classic farmhouse feel or a more modern look, this sink fits the bill.
CREDIT DECOR LOVIN
Farmhouse sinks are typically made of porcelain and are really deep. Their exposed front wall and depth create a large appearance which makes your kitchen space appear larger. The only downside to the cool sinks is that they can be quite pricy, so you may want to shop around if you're on a tight budget.
CREDIT Buckets of Burlap
How Much Do Farmhouse Sinks Cost?
Farmhouse sinks run anywhere from $350 to $1800+ depending on composite quality, apron design, finish, sink configuration, and the quality of the glaze or coating.
Range Hood
What's a Range Hood?
A range hood is an enclosure that boxes in the exhaust fan and ductwork over your stove. It's designed to improve the air quality of your kitchen when you cook.
CREDIT Jessie Thomas Designs
Do I Need a Range Hood?
In short, yes you do. A range hood removes odors and keeps your kitchen from being smokey and greasy. If you have to have one, why not make it beautiful?
A beautiful range hood may not make your kitchen larger but it can definitely create an unforgettable focal point
I've fallen in love with decorative range hoods. The natural materials against the white walls are fantastic, aren't they?
CREDIT UNKNOWN
I could kick myself, when I redesigned my kitchen several years ago I had the opportunity to get a decorative range hood and didn't do it. I got caught up in the wrong details and decided to go with the regular, run-of-the-mill range hood and I regret it. Now every time I see one of these I get a little envious- is that a bad thing? Hope not.
CREDIT Buckets of Burlap
White Subway Tile
You can never go wrong using white subway tile- it's a timeless treasure for any kitchen. Subway tiles were introduced years ago in the New York City subway system and have been popular ever since.
The glossy finish tiles have slightly curved edges, they're stain-resistant and reflect the light which makes them a great choice in farmhouse design.
CREDIT Architectural Digest
How about this white farmhouse kitchen (above) from Architectural Digest? There's so much to take in – the white subway tile to the ceiling -so neat. The farmhouse sink, cool light fixtures, rustic industrial bar stools, and wood accents. I can't get enough. More please.
White Cabinets
White cabinets are beautiful in a farmhouse kitchen design. You can see in this small space they reflect the natural light and make the galley kitchen seem larger than it is. You may have to put in a little extra work to keep your white cabinets clean but they'll be worth it.
CREDIT Apartment Therapy
Adding stylish hardware, like the gold pulls and handles in this kitchen, is a great idea. The hardware brings interest to the white cabinets and helps tie the kitchen together. Click here for a detailed guide on kitchen cabinets.
I can't help but mention the beautiful chandelier too. This light fixture is the perfect focal point- it's such a statement piece. Just because you have a small kitchen doesn't mean you can't make it amazing.
Countertops
Countertops are one of the most important design elements in your kitchen. They're a big deal in a small kitchen because they're the workspace, the serving piece, and the storage unit. If you're in the market for new countertops, you've got a ton of choices from economical all the way to elite.
White Marble Countertop
The white marble countertop in this kitchen is so beautiful. It doesn't scream for attention, it quietly sets the tone for the room – laid back and simple.
If your countertops are already in place and you don't love them, decorate them the best you can with interesting items like cutting boards, trays, canisters, and baskets. Decor is in the details, make something else like the sink, range hood, or lighting the focal point of the room and no one will notice the countertops you're trying to hide.
Butcher Block Countertops
White is beautiful but not everything has to be white in your farmhouse kitchen. If you'd like a more rustic style, consider butcher block countertops. They create a country kitchen feel with an upscale flair.
CREDIT SARAH SHERMAN SAMUEL
If you're concerned the darker color will make your kitchen seem smaller pair your butcher block countertops with white cabinets to make the space feel larger.
Stainless Steel Appliances
Stainless steel appliances are a great choice for your farmhouse kitchen. They're timeless plus they reflect the light making your small kitchen feel spacious.
CREDIT Proverbs 31 Girl
Wooden Beams
Bringing the outside in creates coziness. Natural elements like wooden beams and barstools bring this kitchen together creating a rustic look with a farmhouse feel.
CREDIT David Parmiter
The wood beams in this black and white kitchen bring the eye up creating the feeling of more space. Aren't they fantastic? The open shelving, the neat range hood with wood accents, the stylish lighting, not to mention the hardwood flooring- yes, yes. I could go on and on but you get it. Small spaces can be amazing with a little bit of planning.
CREDIT Brie Williams Photography
Disclosure
Please note that some links in this post are affiliate links. At NO ADDITIONAL COST TO YOU, I will earn a small commission on any purchases made.